1500 Watts Standard Mini Commercial Oil Press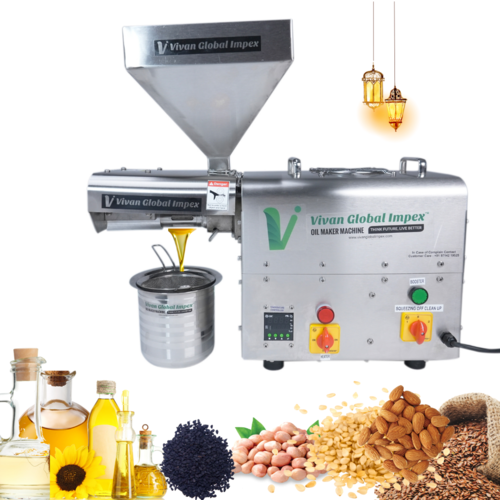 1500 Watts Standard Mini Commercial Oil Press
Price And Quantity
Piece/Pieces

65000.00 - 65000.00 INR
Product Specifications
Product Description
Vivan GlobalImpex (GST- 24ATMPD2860N1ZG) Is Indias 1St For DomesticOil Press Machine And Mini Commercial Oil Machinery
Vgi Presenting,All Type Oil Expeller Machine Manufacture For Domestic & Commercial OilMachine. You Can Use This Oil Maker Machine To Extract Oil Of All Type SeedsEasily And With Zero Maintenance In The Machine & FullyAutomatic Stainless Steel Machine Mfg.
WeVivan Global Impex, Operate As A Manufacturer In Machine Making Industry WithThe Belief To Improve Ourselves Through Innovation. For This Reason, We KeepIncorporating New Technologies That Would Lead Us To Engineer An Array Of OilExtractor Machines Of Best Quality. The Range We Are Offer IncludesLike Cold Press Oil Machine For Commercial Use ,Oil ExtractionMachine, Oil Extractor Machine, Oil Expeller Machine, Mini Commercial OilMachine, Cold Press Oil Machine, Mini Oil Mill, Copra Cutter Machine And MoreQuality. Each One Of These Is Made Using Material Of A Grade Quality ThatPossesses The Capability To Obtain Oil Of Different Seeds Like Coconut,Almonds, Peanuts, Cumin Seeds, Mustard, Sesame, Sunflower Seed, Flax Seeds,Soybean, Etc. Apart From Operating In The Manufacturing Domain, We Work As ARetailer, As Well. This Makes Us Reach A Wider Audience With Ease.
Futures :-
Fully AutomaticSystem.
You Can Also UseBy-Product (Cake).
You Can ExtractHighly Hygienic And Healthy Oil.
100% Chemical FreeCooking Oil.
Who CertifiedProduct.
Cold Oil Press Machine Is Easy ToOperate,
CheapAnd Easy To Cleaning
Lightweight with LowNoise This Machine.
Easy And IntelligentOperation
Heavy Duty Motor& Power Saver & Low Power Cost
Extracting 100percentage Pure Oil without Chemical At Any Time At Any Place.
Best Technology (FoodGrade Stainless Steel Machine)
Best Quality and VeryEfficient Compact and Attractive Design like Mixer with worth Price and CompanyWarranty.
Introduced StainlessSteel 304 Grade Oil Container.
Its Very Useful forStart-Up Small Scale Business for Commercial Purpose At Home or Shop.
Vgi Machine IsMulti-Functional Mini Commercial Oil Press Machine For Peanuts, Coconut,Olives, Sesame, Soybean, Nuts, Walnuts, Sunflower Seeds, Vegetable Seeds, FlaxSeeds, Stiff Flower, Almonds And So On 100 Types Of Oil Seeds.
Instant Get PureNatural Organic Fresh Edible Oil Easy To Use And Portable Machine
Very Easy For Installation,Hassle Free Performance, Longer Working Life, High Impact Strength, Easy To SetUp Ad Compact Design Are Qualities Of Offered Oil Press Machine.
Why Choose VivanGlobal Impex Machine?
Pemium QualityProduct Assortment Grade Raw Material Stainless Steel And AdvancedTechnology Under The Guidance Of Our Skilled Engineers.
We Provide ApplicationsTo Various Sector Such Us: House , Restaurants, Hospitals, Offices AndCommercial Uses
Vgi Is Brand WhichDeals With Quality Product. We Are Not Compromises In Quality In TheCompetitive Market.
We Are TheMade-In-India Assessed Gold Supplier
AdvancedInfrastructure
Well ExperiencedWorkforce
Timely Delivery
Specialization InService
24*7 Guidance ByQualified Engineer
Life Time Support
Wide DistributionNetwork
Client-CentricApproach
Fair BusinessPractice
Positive Record