Cold Press Oil Maker Machinery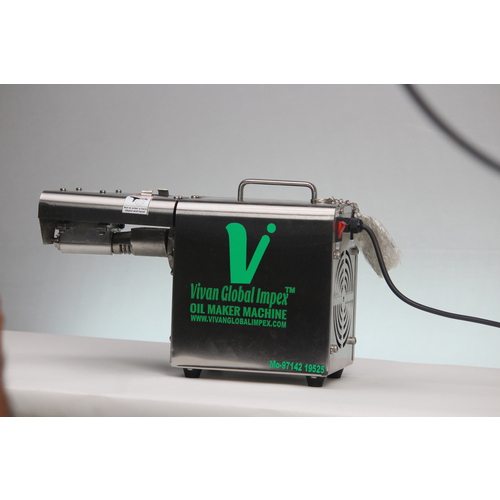 Cold Press Oil Maker Machinery
Price And Quantity
Unit/Units

18500.00 - 22500.00 INR
Product Specifications
Product Description
VIVAN GLOBAL IMPEX(GST- 24ATMPD2860N1ZG) is the INDIA's FIRST brand which deals to oil maker machine.
Mini Oil Ghani Machinery is used for pressing more than 12 Types of different seeds like coconut,mustard, peanut,sunflower seeds,sesame,almond,walnut,flaxseed,soybean etc.
VGI is manufacturer company it also provide service and Life Time Support by Expert Engineers.
PRODUCT FEATURES :-
Mini Oil Ghani Machine used to make 100% Pure and Natural oil at home.
Mini oil maker is Less Expensive and much easier to operate than other oil extraction machine.
Taste and Nutritional value of oil is exactly same as cold press oil.
which helps to Improve Health and wealth of this human generation.
Mini Oil Ghani Machine has Advanced Technology with unique features.
" WE ARE NOT RULE IN ONLY CUSTOMER'S KITCHEN WE ALSO RULE IN THEIR HEART "
Peanut Oil Expeller Machine
Coconut Oil Pressing Machine
Commercial Oil Expeller
Mini Oil Press Machine
Mini Commercial Oil Press
Automatic Oil Press With Advanced Technology
Mini Oil Extractor Machine
Mini Oil Press Machine
Domestic Oil Extractor Machine
Peanuts Oil Maker Machine With Temperature Controller
Oil Maker Machine For Home
Oil Press Machine
Oil Extraction Machine with Temperature Controller
Mini Oil Press Kitchen Model
Seeds Squeezer with Advanced Technology
Automatic Oil Processing Machinery
Cold Pressed Oil Expeller
Press Oil Extraction Machine
Automatic Cold Press Oil Expeller
Automatic Commercial Groundnut Oil Expeller
Soybean Oil Expeller
Sunflower Oil Press Machine
Mustard Oil Expeller
Mini Commercial Oil Expeller
Mini Commercial Oil Press
Coconut Oil Extraction Machine
Domestic Oil Maker Machine
Almond Oil Press Extraction Machine
Soybean Oil Maker Machine
Home Use Oil Maker Machine
Oil Extraction Machine
Edible Oil Extraction Machine With Temperature Control
Peanut Oil Maker Machine (With Temp Control)
Automatic Mini Oil Press Machine
Walnut Oil Press Machine
Household Automatic Oil Press Machine
Mustard Oil Expeller
Soybean Oil Expeller
Coconut Oil Expeller For Home Use
Cold Press Peanut Oil Maker Machine
Cold Press Coconut Oil Maker Machine
Cold Press Mustard Oil Maker Machine
Mini Oil Extraction Machine In Home Use
Household Oil Extraction Machine
Kitchen Oil Maker Machine
Kitchen edible oil maker machine
Cold Press Sunflower Oil Maker Machine
Kitchen Oil Press Machine
Seed Oil Press
Sesame Edible Oil Maker Machine
Trade Information
SURAT

Cash on Delivery (COD)