Mild Steel Oil Filter Machine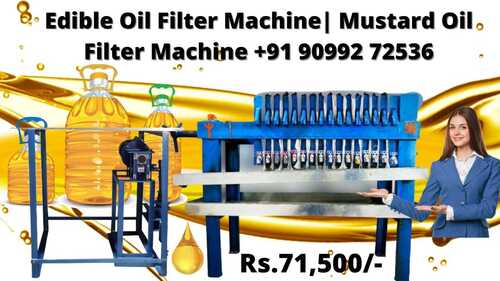 Mild Steel Oil Filter Machine
Product Description
Vivan Global Impex Is The First Indian Manufacturer And Supplier Export/Import Of Machineries In The Following Categories like Domestic Oil Maker Machine, Oil Press Machine, Mini Oil Extraction Machine, Mini Commercial Oil Press, Oil Expeller , Oil Filter And Copra Cutter Machine, Cold Press Oil Machine, And Oil Expeller Food Processors, Etc.
Established In 2016 And It Is Located At Surat, Gujarat. We Vivan Global Impex Under The Leadership Of Our Mentor Mr. Janakbhai Dankhara, Owing To Commercial Experience And Deep Commercial Skill, We Have Achieved The Success In This Area In Proficient Way. We Are Providing The Best Quality Of Products. For This Reason, We Keep Incorporating New Technologies That Would Lead Us To Engineer An Array Of Oil Extractor Machines Of Best Quality.
Vivan Global Impex Exports Machine In All Over The World To Gain The Customer Satisfactions Across The Platform Of Work And Solutions.